I apologize the Tau newsletter hasn't been going out. We've had various family crises and I've also been busy preparing for our inaugural Tau Journey. We are ready and our first public journey (two of them, actually) begins this Saturday! Thanks for your support. If you're the praying type, we'll take your prayers. If you're the giving type, we'd love your assistance in helping scholarship the five clergy we are supporting and serving this trip. If you're the journeying type, enjoy reading this invitation that went out and get prepared to sign up for a future Tau Journey. Here's the invite. Godspeed and be all manner of well until then.
TAU JOURNEY PANAMA
Tau is leading its first formal retreat soon, to where Tau was conceived, the Bocas Del Toro archipelago off the Caribbean coast of Panama. And you are invited. Space is limited and first-come first-served. We guide people on simultaneous inner/outer journeys. You can carve your own path and do your own thing––it's your retreat and only you know what you most need! But we will be there curating the experience and you can take advantage of as much as you wish. We just want everyone there to be open and excited people of good will and intention. Now to some details:
I've booked a completely off-grid, eco-retreat center that has private "jungalows", a main lodge, and an open-air dining deck with yoga platform on a jungle hill overlooking the ocean, all on a car-free tropical island filled with wildlife right on the Caribbean Sea. The on-site experience is for 7 days and 6 nights and almost all-inclusive. The plan:

Laity Retreat– Feb 25 through Mar 3, 2023
Clergy Retreat– Mar 4 through 10, 2023
The hard cost to Tau is $1500 per individual; if you can afford it, this is the cost. This covers all lodging, three meals a day, interaction with indigenous locals, morning yoga followed by guided contemplative prayer, some excursions, and an original and exclusive pamphlet I've written to retreat habits you can take home and weave back into ordinary life, called "Seven Steps Toward Shalom". It also includes a pre- and post-trip journey consisting of three private health+nutrition coaching sessions, a wholistic lifestyle and well-being inventory, spiritual direction...plus, some mystery. It does not cover airfare to and from Panama, alcohol or snacks, paid excursions (like scuba), spending money, or incidentals. The experience will be guided but everything is optional; it's your journey after all. Here are some added details.
We are unable to accommodate children on this trip.
On a spectrum this is one of our journeys for the slightly more adventurous and in-shape; it certainly requires you to be able to swim and generally enjoy the ocean. Bocas del Toro is a tropical-jungle Caribbean archipelago without cars: jungle hiking, watersport devices, and small boats (pangas) will be the modes of transport.
The center is truly off-grid: solar power, rain-water catchment, fans instead of A/C. There will be bugs. It's also a former cacao plantation and is filled with fruit trees and all the tropical critters you can imagine (caiman, capuchin monkeys, sloths, parrots, etc). Their dock takes you right onto pristine coral reef, where there is bioluminescence at night under the right circumstances. Panama is where life changed course for the Galt family and where Tau was born. It's my favorite place on earth and I've explored it for 40 days total now. I can't wait to share it with you.
Here are some pictures of the property where we'll be staying and connecting.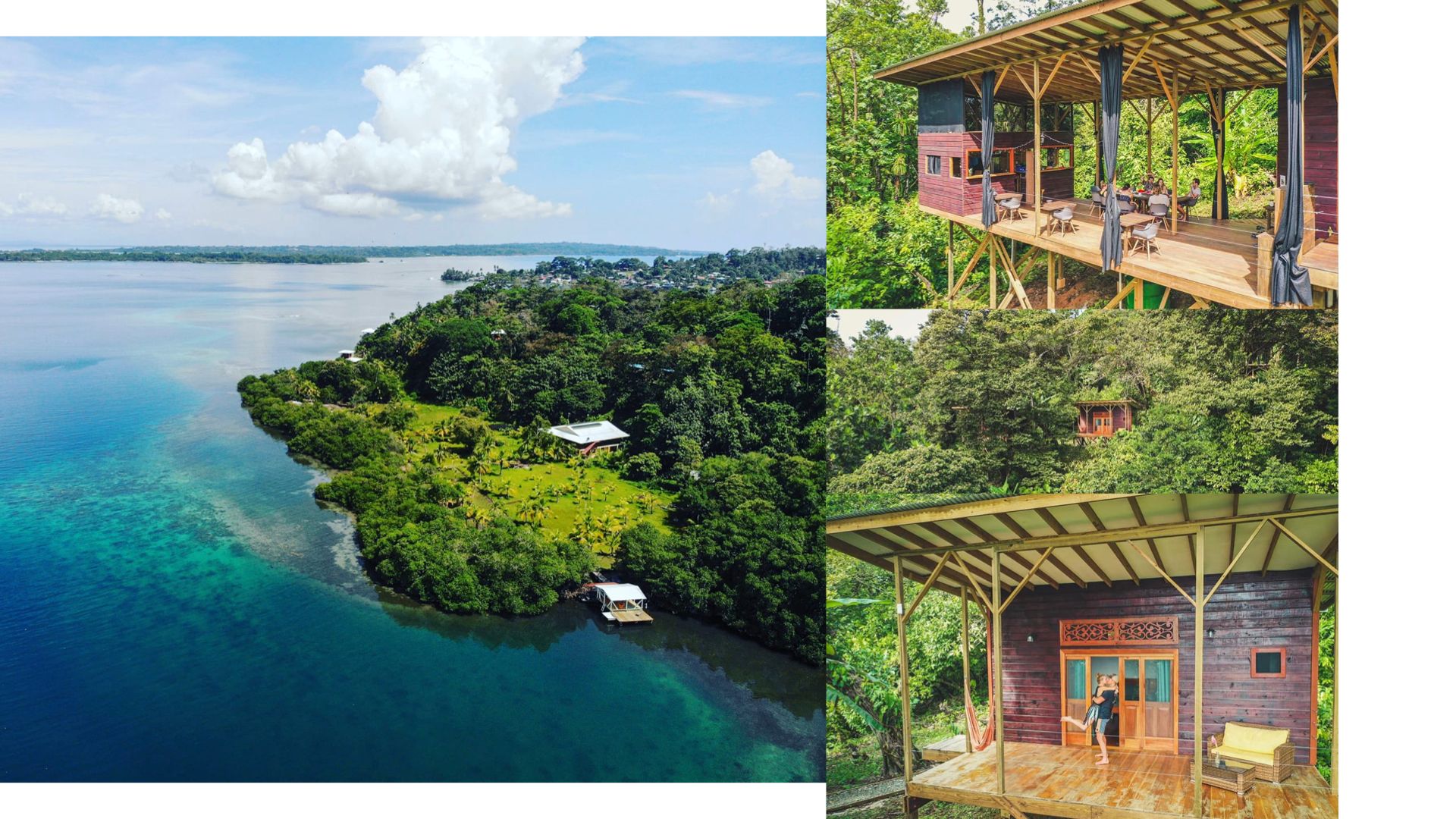 I leave you with this invitation/challenge from Brooklynite Sarah Stodola in her fantastic book The Last Resort: "If you come to Bocas, come here and get man-handled. By nature. You cannot conquer it. This is not Punta Cana. It will minimize you, make you small, put you in your place. And frankly, that is what you need. Buckle up."
---